Key West Boat Rentals
Explore the turquoise waters of Key West at your own pace with our fleet of boat rentals. Our boats are all equipped with low hour four stroke motors, color chart plotters, plenty of comfortable seating, shade, and coolers for your favorite beverages to enjoy your day on the water. Enjoy the day snorkeling, sightseeing, exploring a deserted island sandbar or stopping at your favorite waterside restaurant. Our staff gives a thorough orientation going over all the safety gear, GPS operation and local hotspots to check out. Ask all the questions you like to make sure you're comfortable, our staff is very patient. We also have snorkel gear, ice, and other items you can rent or purchase to make for an easy day. Boat rental prices do not include fuel or state sales tax.
Boat Rental Pricing
(4hr) $425.00 (Get a 5th hour free)
(6hr) $575.00 (Get a 7th hour free)
Weekly Rentals (Call For Pricing)
Boat Rental Captain Pricing
(4hr) $175.00
(6hr) $250.00
If you have 6 or less and need a captain, it's more economical to do a custom private charter.
Book Now
CUSTOM PRIVATE CHARTER PRICING
(Max 6 PPL Includes a Licensed Captain) (Choose up to 2 events from below)
(4hr)– $550.00
*Snorkel
*Deserted Island Sandbar
*Dolphin Watch
*Fun Fishing
Descriptions of each are found further down this page.
Check out our SHARK FEEDING ECHO TOUR
22' Hurricane Deck Boat
Yamaha F150 Four Stroke Outboard
Color GPS/Sounder
Premium Sound System
Bimini Tops (lots of shade)
Freshwater rinse
(2) Stainless Dive Ladders (front and back)
Tons of comfortable seating
Four built in coolers under the seats
Super soft sea deck flooring
Storage for your personal items
And more…
22' Custom Scout Deck Boat
Yamaha F150 Four Stroke Outboard
Premium Sound System
Color GPS/Sounder
Bimini Top
Freshwater Rinse
Stainless dive ladder
Tons of comfortable seating
Coolers for your favorite drinks and snacks
Storage for your personal items
And more…
All renters must be 25yrs of Age or older. Anyone born after 1988 has to take a Boaters Safety Course online https://www.boat-ed.com or have a current Boaters Safety Certificate. Renters Must Have Prior Boating Experience in the ocean and we would suggest taking a private charter your first time out to have the captain show you around the area or hire one of the approved captain/guides.
The renter is responsible for all damage that occurs to the vessel, rental gear, dock, property, individuals, other property or vessels during the duration of the rental period.
Boat Rental Capacity – 8ppl
All approved Captains/Guides hired by a renter must be paid separately directly from the renter to follow the Coast Guard Guidelines. We provide you with a list of approved Captains/Guides that will be available at the time of your rental. Renters must give at least 3 days notice to secure an approved Captain/Guide. If your rental is less than 3 days away we will do our best to secure a captain/guide. Renters that are interested in a captain/guide that have 6 passengers or less have the option to choose a private charter.
Captain/Guide Fees
4hr – $175.00
6hr – $250.00
All renters must have a valid driver's license, valid credit card for deposit, damages, lost items or breach of contract and previous experience driving a vessel of the same size or larger. All agreements and contracts will be signed upon arrival to the location. Cancellations must be seventy two hours prior to your reservation or you will be charged 50% of the reservation fee. Nighttime operation of the rental boats is not allowed. If management does not approve the vessel to be returned after 430 in writing prior to your departure you will be charged a $100.00 per hour late fee. Rentals are available to start at 900am. If you would prefer an earlier start time please contact the management team to coordinate.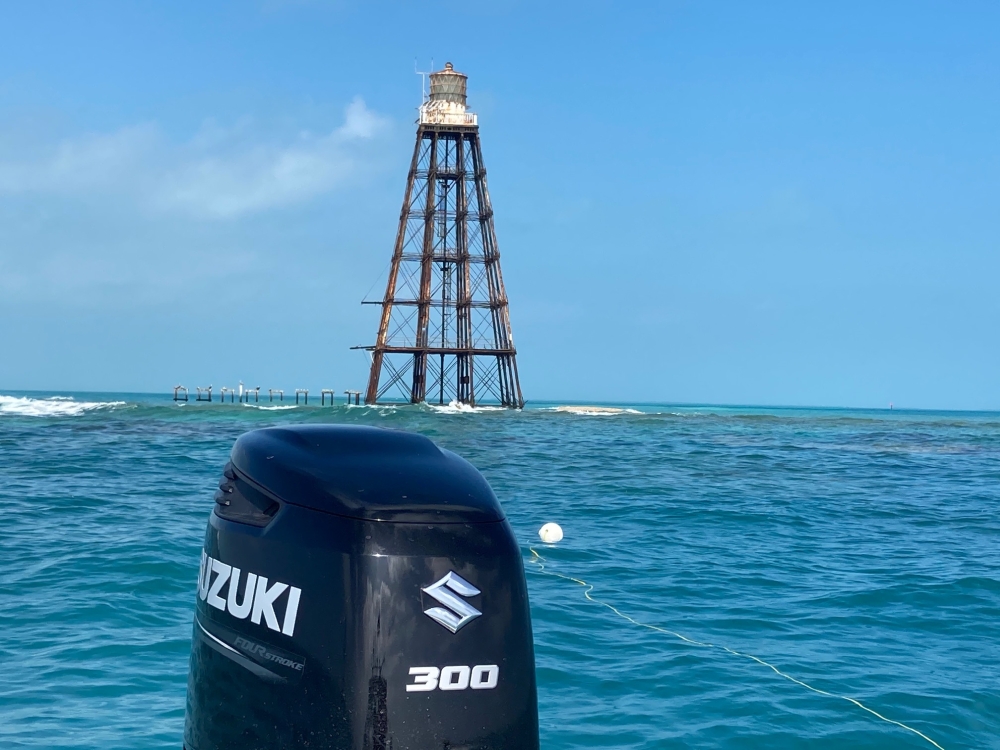 Never drove a boat before or want to have a few drinks, no problem, we also have captains and other trip options. Just let us know and we can figure out the perfect day for your crew.
Custom Charters
We also provide custom charters on these vessels (with a maximum of 6 passengers) that include a Captain that can easily guide you to your favorite custom hotspots for the day. The choices include Snorkeling, Dolphin Watching, Deserted Island Sandbar and Sunset Cruises.
Choose two of the four below:
Fun Fishing
Try your skills at catching some backcountry fish for part of your combo trip. It's just fun fishing to bend the rod a bit and then move in to the next part of your adventure. If you are looking for some more serious fishing just give a call we have that available as well. The max allowed if you add fishing to one of your choices is 4ppl and the price changes by $50.00 for bait, fishing gear, tackle, fishing license etc. Call anytime if you have any questions.


Dolphin Watching
See the resident wild dolphins in the wild right in front of your eyes. The shallow warm turquoise waters are home to several pods of local dolphins that hunt and play in the waters of Key West. It is an awesome year-round habitat for these pods. Key West's Atlantic Bottlenose Dolphins are never fed or trained. We observe the natural behaviors of the dolphins hunting and playing in the wild. Come see these beautiful mammals in person.


Snorkeling
Snorkel the beautiful waters of Key West and see nature live right in front of your eyes. Watch the beautiful marine life in their natural habitat. We can snorkel the deeper barrier reef or if you prefer a shallower area. We can visit the local sponge beds or shallow smaller coral reefs. The location of the snorkel spots will depend on the weather for that day of course but all the spots are awesome. We provide sanitized snorkel gear, instruction and noodle floats. You are also welcome to bring your own gear if you like. Let's get out on the water.


Sunset Cruise
Enjoy your private Sunset Cruise in the Historic Key West Harbor. No crowds just you, your family or friends on a great boat trip. Slowly cruise the harbor visiting all the surrounding interesting sights. See the Mallory Square street performers, Sunset Key, Christmas Tree Island, hear the live music at the sunset pier, see the beautiful nature and wildlife, get away from the traffic for a while and enjoy your own quiet area on the ocean or come up with your own plan. When it's time for the sun to set, get your unobstructed view of one of the most famous sunsets around the world. Bring your favorite snacks and drinks so you can enjoy your favorite beverages while you relax on the water.

Boat Trips
A boat trip is definitely the best way to see the beautiful turquoise waters of Key West Florida. Tour the crystal clear waters all from the comfort of your own private charter. The boat boasts affordable prices, a huge open deck, cooler with ice and a private changing area with a porta potty for the ladies. Join us for an unforgettable adventure on the beautiful waters of Key West, are you ready?